GET REAL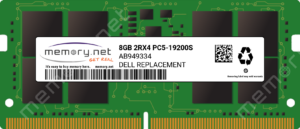 Get ➔ Lifetime warranty ✓ Great savings ✓ Buy factory original AB949334 compatible replacement memory modules configured to your Dell Inspiron, Dell G5, Dell XPS, Dell G7, Dell Vostro, Dell Precision Workstation, Dell Precision, Dell Latitude, Dell OptiPlex or Dell Alienware system.
The Truth in Memory
Dell does not manufacture memory! They buy from one of only three original memory module makers. Samsung, Hynix and Micron make the DRAM and assemble modules. They sell to the world's largest system manufacturers including, Dell.
Guaranteed by federal law - This AB949334, Dell 16GB (1x 16GB) Single Rank x8 PC5-38400S (DDR5-4800) Memory Kit equivalent made by
,
or
does not affect or void Dell warranties.
The right memory. At the right price. Right here for you.